The Endangered Habitats League is dedicated to the protection of the diverse ecosystems of Southern California and to sensitive and sustainable land use for the benefit of all the region's inhabitants. The EHL Newsletter is published quarterly to chronicle our plans, activities, and successes.

To learn more about the Endangered Habitats League and to access prior issues of the EHL Newsletter, please visit our website:

www.ehleague.org

If you are not already a member of the Endangered Habitats League, please join us in the ongoing effort to protect the irreplaceable plants, animals, and places of Southern California.

Free Membership Sign Up

Orange County Litigation Moves Forward
On January 30, 2004, EHL and other conservation and community groups filed the opening brief in our litigation against the County of Orange over its approval of the Saddle Crest/Saddle Creek development project. This development would, according to state and federal wildlife agencies, cut off wildlife movement between central and southern Orange County for the California gnatcatcher.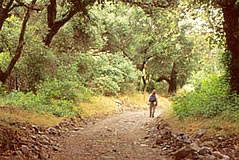 Located in the Trabuco Canyon area, the property consists of scenic foothills with important oak woodland resources. The approved project would preclude connectivity between Natural Community Conservation Plan reserves and impact hundreds of mature oaks. The protections of the Foothill Trabuco Specific Plan – the General Plan provisions for the area – were significantly amended to make way for the project. Our litigation challenges inconsistencies with the General Plan and deficient review under the California Environmental Quality Act, or CEQA.
EHL is represented by Johnson and Sedlack, and is working with Rural Canyons Conservation Fund, Sierra Club, California Native Plant Society, and California Oak Foundation.