The Endangered Habitats League is dedicated to the protection of the diverse ecosystems of Southern California and to sensitive and sustainable land use for the benefit of all the region's inhabitants. The EHL Newsletter is published quarterly to chronicle our plans, activities, and successes.

To learn more about the Endangered Habitats League and to access prior issues of the EHL Newsletter, please visit our website:

www.ehleague.org

If you are not already a member of the Endangered Habitats League, please join us in the ongoing effort to protect the irreplaceable plants, animals, and places of Southern California.

Free Membership Sign Up

Key Cities Join Western Riverside Habitat Plan
In a gratifying reversal, the City of Lake Elsinore – previously against the Multiple Species Habitat Conservation Plan, or MSHCP – joined the plan on a 4 to 1 vote. With participation of other key cities such as Temecula, Murrieta, Hemet , and Riverside , the plan is getting off to a good start.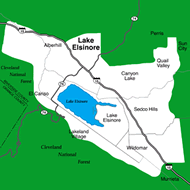 The County of Riverside took the lead on preparing this plan to conserve 146 species by adding 153,000 acres of new habitat lands to existing reserves (see Fall 2003 EHL Newsletter), but a successful plan hinges upon land protection and developer fee collection within municipal boundaries, as well. Some cities, particularly Lake Elsinore , were hesitant to join, given the amount of habitat slated for protection.
As part of a concerted team effort, EHL Executive Director Dan Silver spoke with individual councilmembers on the benefits of joining the plan, recruited community members to speak at public hearings, and authored an opinion piece in the Riverside Press-Enterprise, that was prominently featured prior to the vote (see full text here). A single developer had mounted a well funded but inaccurate campaign against the MSHCP, but these arguments were ultimately rejected.
On February 2, 2004, the new Regional Conservation Authority, or RCA – which will coordinate reserve assembly and management – met for the first time. EHL looks forward to working with the local elected officials and staff that comprise the RCA.