The Endangered Habitats League is dedicated to the protection of the diverse ecosystems of Southern California and to sensitive and sustainable land use for the benefit of all the regionís inhabitants. The EHL Newsletter is published quarterly to chronicle our plans, activities, and successes.

To learn more about the Endangered Habitats League and to access prior issues of the EHL Newsletter, please visit our website:

www.ehleague.org

If you are not already a member of the Endangered Habitats League, please join us in the ongoing effort to protect the irreplaceable plants, animals, and places of Southern California.

Free Membership Sign Up

Honey Springs Ranch Added to Rancho Jamul Ecological Reserve
The future of beautiful, oak-studded hillsides along SR 94 in southern San Diego County was in doubt until Honey Springs Ranch was purchased with state bond monies via the California Coastal Conservancy. It will be added to the magnificent Rancho Jamul Ecological Reserve and become part of the Multiple Species Conservation Plan-San Diego National Wildlife Refuge complex.
Years ago, Honey Springs Ranch was approved for subdivision into estate lots, and annexed into a water district. Fortunately, this subdivision map expired. Though subsequently purchased by a developer, the Riverside Land Conservancy was able to broker a favorable acquisition for $7.4 million. Highly scenic, the 2,000-acre ranch becomes part of a much larger habitat mosaic, a highly intact representation of the original coastal sage scrub ecosystem.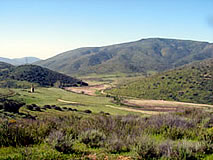 The Rancho Jamul Ecological Reserve
As EHL Executive Director Dan Silver said in the San Diego Union Tribune, "Honey Springs Ranch is a key piece of a magnificent assemblage of open space that preserves our coastal sage scrub in a way that 10 years ago we could only dream about happening."
"The state Coastal Conservancy is seeing the bigger picture here," Silver said. "They see how preservation of open space keeps watersheds healthy and our waters cleaner."